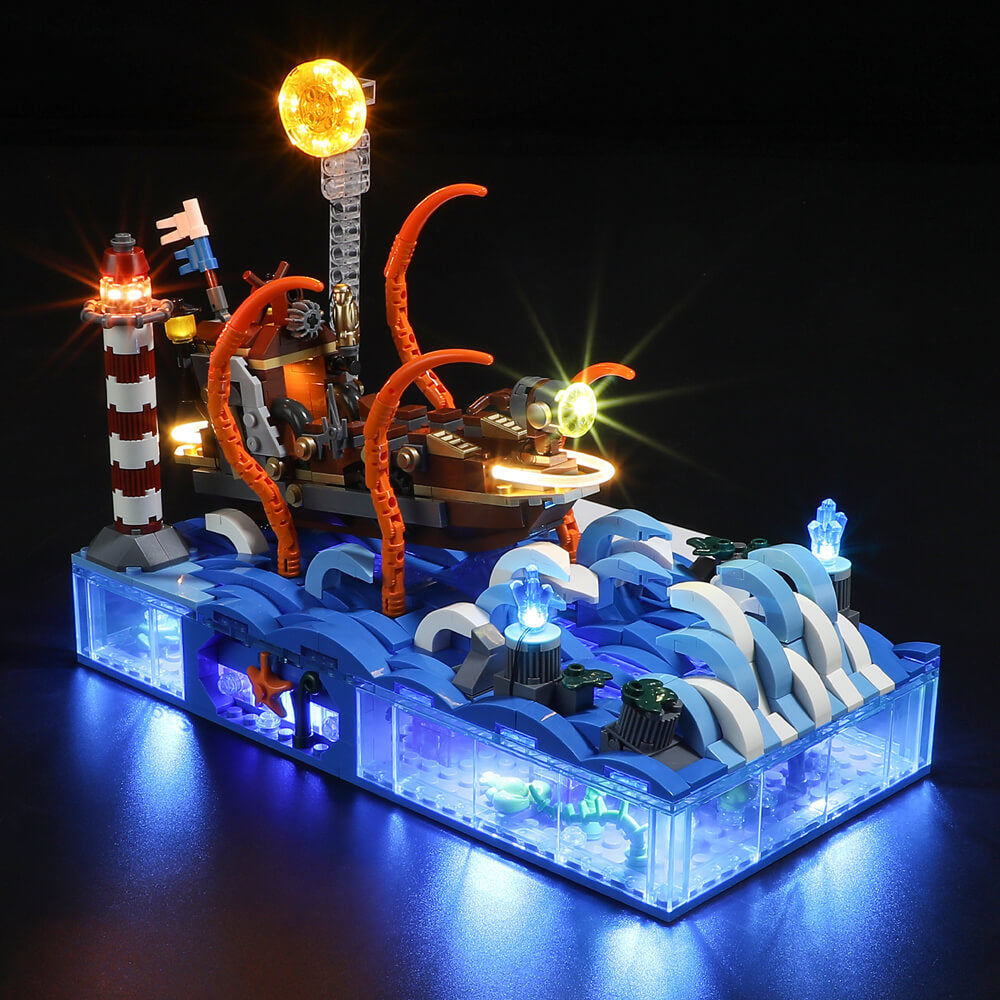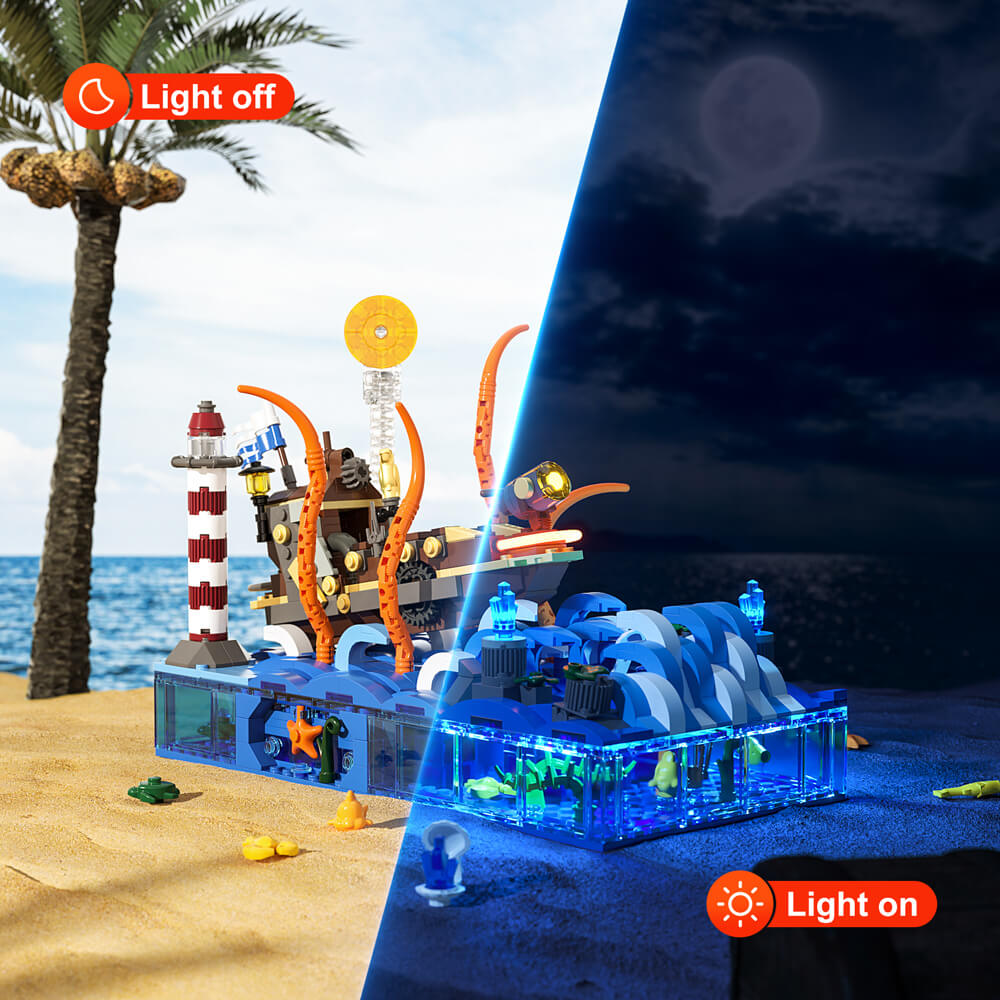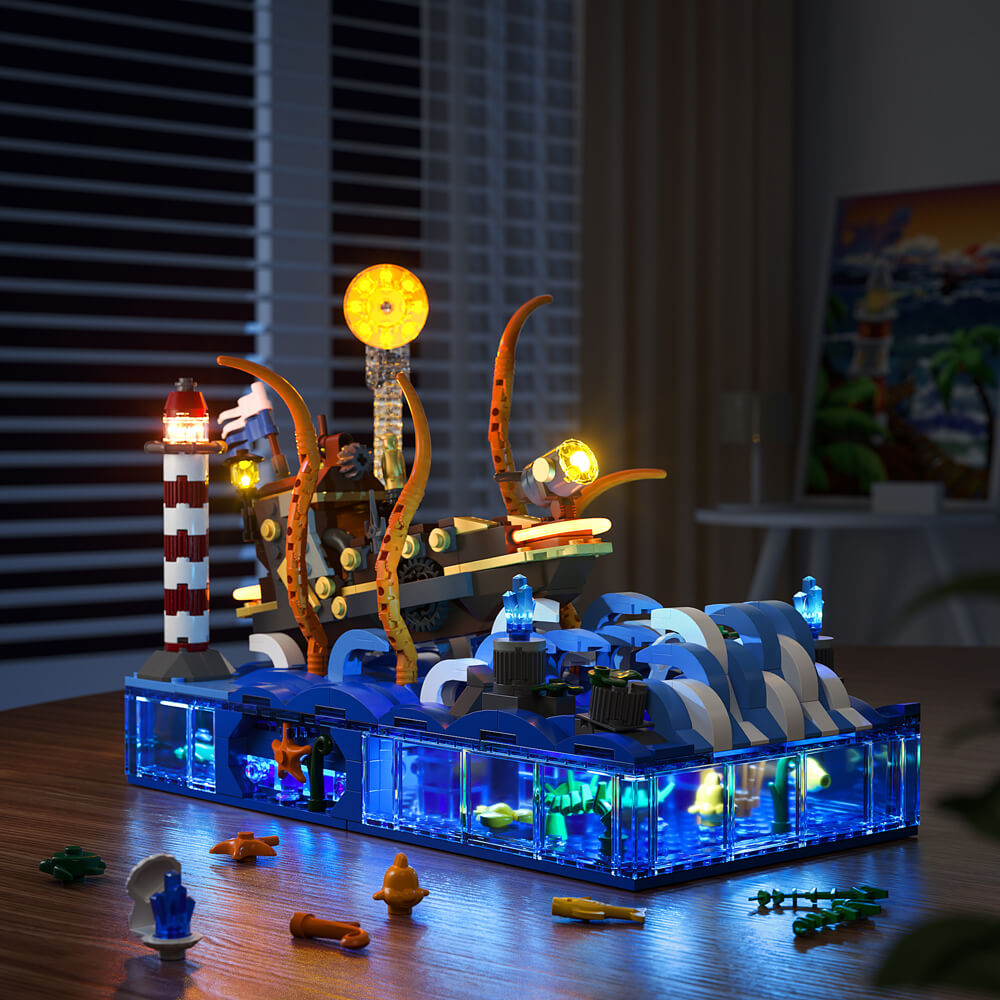 Ocean Adventure Ship
Ship From:
DE (Only for DE FR IT ES PL CZ NL)
Jump on the treasure-hunting ship and start your own adventurous journey with Funwhole Ocean Adventure Ship FH9003 building set! It contains the sea and a pirate boat for play and display.
Set on a Great Summer Adventure with Funwhole's Ocean Adventure Ship
You will join our teenage hero in this adventure building set as he leaves his village on his father's pirate ship to the unchartered oceans. His heart is set to go on a dangerous journey to find lost treasures.
Our hero bravely rides the wild waters of the sea in search of glory! He valiantly steered the ship through the octopus battle, which caused the waves to be violently whipped up all over the ship. The clever and courageous parrot stealthily protected the adolescent while avoiding the tentacles to remove the prized jewel and bring it home.
Awesome Fantasy Building Set Toy With Lighting Design

Funwhole® Ocean Adventure Ship Building Set with LED Light Kit has blocks to build a whole ocean and ship set design. Special transparent bricks create a fantastic illusion of being under the sea. LED lights and electronic wiring add a mesmerizing element to help tell the story of our young hero as he braves the violent seas.
A split formation between the ocean and ship allows many people to work together to build the model. This feature enables multiple players to share the experience of assembling the whole kit.
The moveable ocean journey ship set is built with a moving link beam framework, which allows the sea creature's tentacles to move up into the air. The whole octopus is interactive and moveable.
Numerous translucent blocks are used in the bottom portion. In combination with the illumination, it can vividly show off the abundance of aquatic life present in the ocean, such as tiny fish, lobsters, crabs, shells, various types of algae, and subterranean ice particles;
The construction set's illumination and assembling procedures have been improved according to the instructions book included in the set. You may quickly finish assembling the building block set along with its light parts with the help of wires that you can easily hide.
This set comes with 824 pieces of building blocks and a unique light design only made for Funwhole products.
Products can be assembled in approximately four hours by a single person.
It is made for people ages eight and up as the product contains choking hazards.
Quality Assurance:  And the building bricks and lighting accessories have passed a rigorous quality check to ensure that each brick fits tightly together. We also offer a two-year free warranty. If you are having trouble, please email us.